The Latest News and Events at Havana Phil's
Please follow us on this page and our Social Media outlets
---
NOVEMBER 30, 2017
Happy Thanksgiving to you and your family. We are thankful to have you as our customer.
Please join us Thursday evening November 30th for an opportunity to meet and greet Bill Paley, the owner of La Palina Cigars. Also in attendance will be the CEO and President, Clay Roberts and Sam Phillips, respectively.
Tickets on sale today or at the door for $25 credited toward your first box purchase. We will have some nice gifts with your box purchase as well.
You will be presented a La Palina Cigar upon arrival and we will be serving lovely Hors d'oeuvres prepared by our friend Mark Freedman from Mark's Restaurant. Attendees are also welcome to enjoy the Davidoff Lounge for the entire evening. We look forward to seeing you

next Thursday

. As always, proper attire is required to enter the lounge.
We will be closed on Thanksgiving Day but come out Friday for some football TV fun and deals on Black Friday and Small Business Saturday.
Warm Regards,
Havana

Phil

's Crew

---
DECEMBER 16, 2017
Please mark your calendar for our next event
Saturday December 16th we will be hosting a

Christmas Party with Diamond Crown.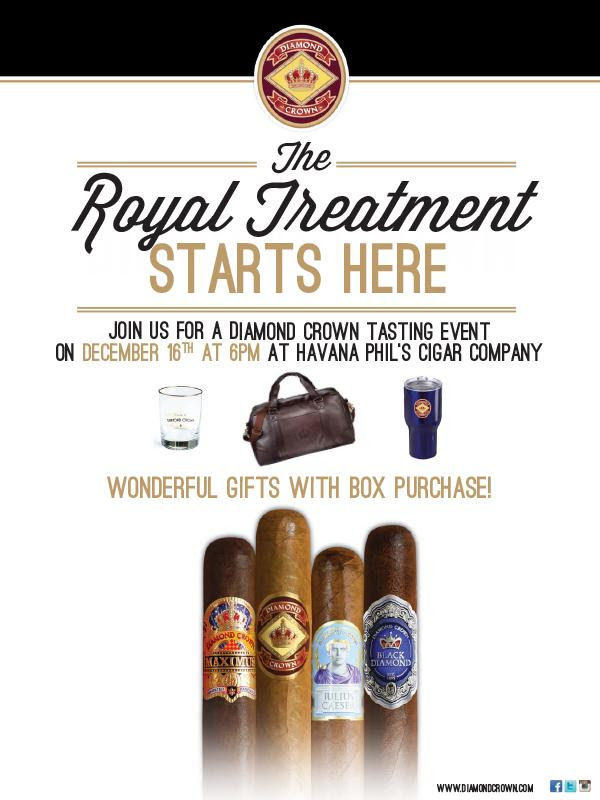 ---
Joy at Havana Phil's Events